Scuba Center Eagan


1571 Century Point




Eagan, Minnesota 55121




(651) 681-8434

Scuba Center Minneapolis


5015 Penn Ave South




Minneapolis, Minnesota 55419




(612) 925-4818

---

---
Looking for a trip to use your Snorkeling and Freediving skills? Join Scuba Center Freediving Instructor Mike Kelly for an amazing experience.: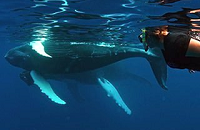 Silver Banks (Dominican Republic Humpback Whale Snorkel Adventure): Feb 26-Mar 5, 2022*

The beautiful TURKS & CAICOS AGGRESSOR II offers an exciting itinerary to the Dominican Republic to snorkel with Humpback Whales at the Silver Bank. This area, twenty square miles in size, is located north of the Dominican Republic and approximately the same distance from the Turks & Caicos Islands. This sanctuary is one of only three places in the world where humans can swim and snorkel among the whales.
*These are the dates we are on board the Turks & Caicos Aggressor II. A 3-4 night extension will be arranged at a resort in Puerto Plata at a later date.
---
How is freediving different from snorkeling or skin diving?
Snorkeling is the casual act of putting on a mask and snorkel and looking below while floating. Snorkelers may not have any training and generally spend most of the time on the surface. Skin diving takes snorkeling a step further by adding short dives underwater. Skin divers may have training that teaches skills, such as efficient dives and snorkel-clearing. Freediving uses advanced breathing techniques and diving skills to increase depth and time underwater. Through training, freedivers learn to conserve oxygen while breathholding while practicing different freediving disciplines, such as static apnea, dynamic apnea, free immersion and constant weight freedives.
How do I learn to freedive?
The PADI Freediver course contains three phases – knowledge development, a confined water sessions and open water sessions. During knowledge development you learn about how your body reacts to breathholding and how water pressure affects you as you dive down. You also learn about freediving equipment, important safety rules and buddy procedures.

In confined water, such as a swimming pool, you learn breathing techniques, then practice breathholds while floating (static apnea) and while swimming (dynamic apnea). You also practice basic rescue techniques and learn your role as a buddy.

During at least two open water sessions, you practice diving down while breathholding, either by pulling yourself along a line (free immersion) or duck diving head first while following a line (constant weight). You learn to gradually increase your depths by relaxing and enjoying each dive. Rescue practice is another key part of the open water sessions.
What gear will I need to freedive?
Choosing and using your freediving gear is part of the fun. Scuba Center will help you find the right mask, snorkel and fins that are specifically designed for freediving. You may also want to get a freediving wet suit and weight system.
---
PADI Basic Freediver

The PADI Basic Freediver course is a subset of the PADI Freediver course. It's a great first step for developing solid freediving skills. You learn basic freediving principles and focus on practicing breathhold techniques in a pool or confined water site. Learn breathhold techniques as well as static and dynamic apnea, plus proper buddy procedures. Goal – static apnea of 90 seconds and dynamic apnea of 25 metres/80 feet.

To enroll in a PADI Basic Freediver course you must be 12 years old or older. You need adequate swimming skills and need to be in good physical health. No prior experience with snorkeling, skin diving or freediving is required.

PADI Advanced Freediver

Achieving a new freediving time or reaching a new depth is an incredible feeling. It satisfies that very personal desire to do your best and be proud of what you can accomplish. The PADI Advanced Freediver course is designed to fulfill that personal need to refine and improve your freediving skills, allowing you to progress slowly while learning how your body performs during apnea.

To enroll in a PADI Advanced Freediver course you must be at least 15 years old and have a PADI Freediver certification (or a qualifying certification from another freediver organization). You also need to have Emergency First Response Primary and Secondary Care (CPR and First Aid) training within the past 24 months. Your instructor may also offer the PADI Emergency Oxygen Provider Specialty course at the same time.

PADI Freediver

Freediving is about inward power, discipline and control. If you've always wanted to enter the underwater world quietly, on your own terms, staying as long as your breath allows, then freediving is for you. Taking the PADI Freediver course is your first step toward discovering why freediving is becoming a popular way to explore beneath the waves.

To enroll in a PADI Freediver course you must be at least 15 years old. You need adequate swimming skills and need to be in good physical health. No prior experience with snorkeling, skin diving or freediving is required.

PADI Master Freediver

If you're an advanced freediver who wants to learn how to fine-tune your lifestyle and training so that you can approach elite freediving levels, then the PADI Master Freediver course is for you. Through focused sessions, you'll bring your static apnea, dynamic apnea, free immersion and constant weight skills to the next level.

To enroll in a PADI Master Freediver course you must be at least 18 years old and have a PADI Advanced Freediver certification (or a qualifying certification from another freediver organization). You also need to have Emergency First Response Primary and Secondary Care (CPR and First Aid) training within the past 24 months. Your instructor may also offer the PADI Emergency Oxygen Provider specialty diver course at the same time.


---

Emergency First Response (EFR)

CPR and First Aid
This course is designed for anyone who wants to learn or update CPR and First Aid skills. During the Emergency First Response program you will also receive training for Automated External Defibrillators (AED). While this course is not diving specific, it meets PADI requirements for the PADI Rescue Diver and Divemaster certifications.

---

---