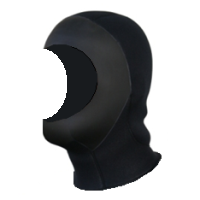 Seasoft Pro M6 6mm Drysuit Hood for Full Face Masks


The SEASOFT PRO / M6™ 6 mm Drysuit Hood is designed to be worn with a full face mask. The PRO / M6™ has a layer of skin on the inside and on the outside with a layer of tough nylon in between these two layers. The skin allows the hood to seal to your face and the full face mask to seal to the hood.

Of course, the three back panels are of compressed neoprene to provide you with thermal protection as you descend. You don't want your hood getting thinner as the water is getting colder.

There are no seams down the middle of the chin, this prevents jaw fatigue.

There are two layers of Titanium Flake Foil™ for added heat retention.

At the top of the hood there are two small holes with a built in baffle system inside the hood to purge excess air from inside your hood while preventing any cold water from entering.