CAGE Code: 3PHY4
OTS Guardian Full Face Mask

Ocean Technology Systems is the Leader in State-of-the-Art Underwater Communication Systems servicing the Sport, Commercial, Movie Industry, Search & Rescue and Military communities around the world! Looking for the finest underwater communications systems available? You have come to the right place. OTS offers hard-wire, through-water, sonic, wireless, diver recall systems, Buddy Phone, Aquacom, Hot Mic, and Buddy Line products. They also offer support items such as earphones, microphones, full face masks, and ComRope.
Scuba Center is an authorized OTS Dealer.
This is your assurance that your equipment will come with the full manufacturer's warranty.
*As many OTS communications items are assembled and tested to order, please allow for additional lead time.*
---
OTS Guardian Full Face Mask... Designed With Divers In Mind!!!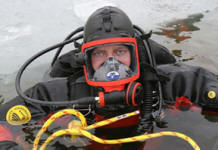 With over 60 years of diving experience and having sold almost every Full Face Mask (FFM) on the market, it was easy to see there was a need for something better. A common problem with most FFM, is the seal. The lack of a good seal causes the diver to use air quicker and can interfere with the divers ability to hear if using underwater communications. The Double Seal was specifically designed to allow people with a small faces or a slim face, especially in the temple area, to seal better.

The OTS Guardian Full Face Mask is comfortable and is easy to use for anyone. The low profile visor ensures great visibility. The OTS ABV valve helps preserve your air when on the surface. Set up is fast and the hose is on the right side which helps to keep your configuration clean and organized. Diving becomes effortless especially in cold water. The Guardian helps keep your face warm and being able to breathe with your nose helps keep you from getting a dry throat, which is common for divers who have long duration dives.
Everyone has a little different face. Equalizing is a challenge for all full face masks... One size does not fit all!. In order to ensure everyone can equalize, OTS has put together an Equalizing Kit which comes with every Guardian full face mask. The kit consists of two bases. One is a standard size without any holes. It can be adjusted up or down to fit as necessary. The other base has two holes which allow for different size pads that can be added. In the event the standard base does not work for you, one of the pads and the other base should fit the bill.



Double seal, allowing for the comfort of both small and large faces

Equalizing system which helps fit virtually all noses

Variety of Colors are offered

Low profile (visibility is superb)

Hose comes off the right side (most preferred by divers)

Easily adjustable head straps & robust buckles.

Ambient Breathing Valve (ABV) standard

Easily removable 2nd stage regulator (great for storage and maintenance)

Prepared for OTS communication systems

Supply hose included

OTS Full Face Mask bag and more...
Colors: Skirt/Hardware
Black/Black
Black/Blue
Black/Red
Black/Pink
Blue/Black
Yellow/Black

Price: $899.00



---
Guardian Mask Communications Package
Includes OTS Guardian Mask (Any Color Combination) & OTS-BUD-D2:
The Buddy Phone D2 is a digital, micro-miniature, ultrasonic transceiver allowing communication between two or more scuba divers or surface stations. Using "Digital Signal Processing" (DSP) techniques, the Buddy Phone produces uncompromising speech clarity. The Buddy Phone D2 is digitally controlled and features a voice menu to guide you to: adjust your Volume, change from Channel A to Channel B, or put the Buddy Phone in a continuous voice transmission mode.

GRD-BUDS: OTS Guardian Full Face Mask Package

OTS Communications Training Videos
Price: $1589.00
---
Surface Communications Station

OTS SP-100D2 Buddy Phone (2 Channels)
The SP-100D Surface Buddy Phone ® transceiver was designed to operate with all single sideband acoustic underwater devices within range and on the same frequency. State-of-the-art Digital Signal Processing circuitry (DSP - known as "Software Defined Radio") has been incorporated ensuring great performance and clarity. The new DSP Squelch circuitry is second to none. Includes 35' transducer cable and a hand held microphone.
Battery Type: 8 AA alklaline; or 16 AA alkaline; or optional RB-11 NiMH 12-volt Battery Pack
Dimensions (W x H x D): 9.0" x 7.85" x 3.70"
Weight: 2.5 lbs

Freq. A (Channel 1): 32.768 kHz USB
Freq. B (Channel 4): 31.250 kHz LSB

Price: $1649.00

---

Guardian Full Face Mask Accessories
Guardian Eyewear Kit: Add your prescription lenses to wire frames in your OTS Guardian FFM. With the Guardian Full-Face Mask Eyewear Insert, enjoy a clear view underwater with securely mounted, custom engineered and field-tested prescription ready eye gear.
Price: $114.95
OTS Guardian Head Strap - Black
# 872006-000
Price: $36.75

Guardian Equalizing Kit
(1 Standard Base, 1 Adjustable Base, 4 Insert Sizing Pads)
# 910385-000
Price: $36.75
Black-Out Training Mask:
Price: $13.50

Used for Public Safety Diving training exercises

Fits most standard scuba and full face masks

Black nylon with elastic hem
---
Innovative Dive Equipment Inc. Guardian FFM Accessories

Innovative Dive Equipment began in 2004. Owner Sam Lapinsky is an active Public Safety Diver, and Public Safety Scuba Instructor for a large Sheriff's Department in Florida, and before that a salvage diver. Over the years he had ideas for simple devices to make it easier to complete difficult tasks with a little more ease while working underwater. Innovative Dive Equipment is now bringing some of these ideas to market, hoping that other divers will benefit from their use.
Guardian Accessory Rail Light System Complete:
Accessory rail system easily attaches to OTS Guardian full face mask and makes it possible to mount various devices to the side of the mask. This version has the "Inodive LED Dive Light" mounted to the accessory slide. This light is rated at 1watt (80 Lumen), and will burn for approx..4 hours on 2 AA batteries. A double O-ring seal, and magnetic switch, help insure the watertight integrity of the light to 150 feet. Other devices can be attached to the accessory rail by adding additional "Universal Slides" (purchased separately). Cameras, lights, and other devices are then changed by simply sliding them on or off the rail.
Includes one rail and one light. No tools needed.
Price: $341.25
Universal Mount Kit Complete
Price: $313.95
Guardian Accessory Rail (only)
Price: $135.45
Universal rail holder
Price: $156.45
Combination Mount for Accessory Rail System: Adding this additional component to a Rail System Slide allows you to mount a GoPro Camera AND a Light on the same Slide. Does NOT include mask, camera, comms, rail, or slide.
Price: $47.25
Related Items
While these are excellent reference materials, in no way should this information be considered a replacement for proper training for the specific type of diving in which you plan to participate.