CAGE Code: 3PHY4
OTS Spectrum Full Face Mask

Ocean Technology Systems is the Leader in State-of-the-Art Underwater Communication Systems servicing the Sport, Commercial, Movie Industry, Search & Rescue and Military communities around the world! Looking for the finest underwater communications systems available? You have come to the right place. OTS offers hard-wire, through-water, sonic, wireless, diver recall systems, Buddy Phone, Aquacom, Hot Mic, and Buddy Line products. They also offer support items such as earphones, microphones, full face masks, and ComRope.
Scuba Center is an authorized OTS Dealer.
This is your assurance that your equipment will come with the full manufacturer's warranty.
*As many OTS communications items are assembled and tested to order, please allow for additional lead time.*
---
OTS Spectrum Full Face Mask. Welcome to the Spectrum of Diving...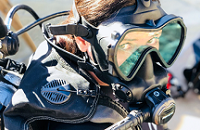 With the Spectrum Full Face Mask, Ocean Technology Systems created the best Full Face Mask on the market that allows divers to user their own regulators and eliminating the heavy cost associated with standard FFMs, without sacrificing luxury.
The Spectrum Full Face Mask provides a simple method to adapt your own regulator to the mask by eliminating the bite down mouthpiece and tying your own reg in with the rest of the FFM. This allows for some of the best features of our other Full Face Masks : no jaw fatigue, no dry mouth, double seal for a better fit, five point head harness and clear communications.
Regulator not included.
OTS Spectrum Full-Face Mask is tested to a maximum diving depth of 50m according to EN 250:2014**

OTS Spectrum Full-Face Mask is designed for water temperatures below 10°C and is suitable for cold-water diving applications. Ultimately, cold water performance is dictated by 2nd stage regulator being used.

OTS Spectrum Full-Face Mask is tested for diving applications with breathing air according to EN12021.

OTS Spectrum Full-Face Mask has been tested according to the European standard EN 250:2014**

**EN250:2014 refers to the 2014 European Standard for Respiratory equipment – Open Circuit Self-Contained Air Diving Apparatus.




Fits most 2nd stage reglators

Double seal, allowing for the comfort of both small and large faces

Eliminates jaw fatigue and dry mouth

Variety of Colors are offered

Keeps face dry and warm

Hypoallergenic silicone skirt

Easy to equalize

Wide field of vision

Allows for OTS communication systems

Compatible with many OTS accessories

Coated tempered safety glass visor

Regulator not included
Colors: Skirt/Lens
Black/Clear
Black/Red Coated
Blue/Clear
Blue/Red Coated


Price: $409.00




OTS Spectrum Manual
---
Spectrum Mask Communications Package
Includes OTS Spectrum Mask & OTS-BUD-D2:
The Buddy Phone D2 is a digital, micro-miniature, ultrasonic transceiver allowing communication between two or more scuba divers or surface stations. Using "Digital Signal Processing" (DSP) techniques, the Buddy Phone produces uncompromising speech clarity. The Buddy Phone D2 is digitally controlled and features a voice menu to guide you to: adjust your Volume, change from Channel A to Channel B, or put the Buddy Phone in a continuous voice transmission mode.

SPT-BUDS: OTS Spectrum Full Face Mask Package

OTS Communications Training Videos

Price: $1129.00

---
Surface Communications Station

OTS SP-100D2 Buddy Phone (2 Channels)
The SP-100D Surface Buddy Phone ® transceiver was designed to operate with all single sideband acoustic underwater devices within range and on the same frequency. State-of-the-art Digital Signal Processing circuitry (DSP - known as "Software Defined Radio") has been incorporated ensuring great performance and clarity. The new DSP Squelch circuitry is second to none. Includes 35' transducer cable and a hand held microphone.
Battery Type: 8 AA alklaline; or 16 AA alkaline; or optional RB-11 NiMH 12-volt Battery Pack
Dimensions (W x H x D): 9.0" x 7.85" x 3.70"
Weight: 2.5 lbs

Freq. A (Channel 1): 32.768 kHz USB
Freq. B (Channel 4): 31.250 kHz LSB

Price: $1499.00

---

Spectrum Full Face Mask Accessories
OTS Head Strap - Black
# 872006-000
Price: $32.00
OTS Spectrum ABV: The most anticipated accessory for the Spectrum Full Face Mask is finally here! The Ambient Breathing Valve (ABV®) allows a diver to breathe ambient air while at the surface, thus conserving tank air.
The ABV® was designed with simplicity, durability and reliability in mind. Installation only requires a few minutes.
# 879110-000
Price: $129.00
---
Spectrum Accessory Bracket
The Spectrum Accessory Bracket system allows a diver to mount lights and other accessories to the side of the Spectrum Full Face Mask. The Spectrum Accessory Bracket allows for two mounting positions : high or low. The Bracket is available with a universal adapter, with an Inodive Light or sold alone.
Spectrum Accessory Bracket with Inodive Light:
Accessory bracket system easily attaches to OTS Spectrum full face mask. This version includes the "Inodive LED Dive Light". This light is rated at 1watt (80 Lumen), and will burn for approx..4 hours on 2 AA batteries. A double O-ring seal, and magnetic switch, help insure the watertight integrity of the light to 150 feet.
# 920040-000
Price: $104.99
Universal Bracket Kit
This kit allows a diver to mount most (round) 3rd party lights to the side of the Spectrum Full Face Mask.
# 920039-000
Price: $79.99
Accessory Bracket (only)
# 920041-000
Price: $49.99
Related Items
While these are excellent reference materials, in no way should this information be considered a replacement for proper training for the specific type of diving in which you plan to participate.