CAGE Code: 3PHY4
Scubapro Full Face Mask

No matter where your adventures take you, SCUBAPRO has designed the perfect gear for you. Full line of scuba diving, snorkeling and freediving equipment: regulators, BCs, computers and instruments, wetsuits and drysuits, gloves, boots, fins, masks, snorkels, bags, accessories and everything else you need to explore our watery world safely.
Scuba Center is an authorized Scubapro Dealer.
This is your assurance that your equipment will come with the full manufacturer's warranty.
---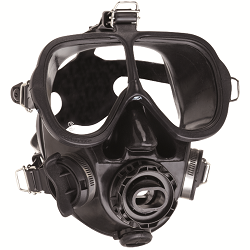 Scubapro Full Face Mask


SCUBAPRO's FULL-FACE MASK is a professional quality mask designed for maximum safety and comfort while diving in very cold water, diving in wrecks or caves or when technical diving. The FULL-FACE MASK features large anti-fogging treated lenses that provide a wide field of view and create an open, airy at-depth experience. The design is also ideal for using a secondary air source, for diving in contaminated environments, or if you want to set up an underwater communication system. For this reason, the mask is widely used by military and commercial divers. However, it is also a viable option for recreational divers who want to take their diving experiences to the next level.

Regulator not included.
Reduced weight increases comfort during extended dives.
Mask features separate compartments for nose and mouth.
Top compartment is equivalent to a dual lens mask.
Ultra-wide silicone skirt fits a wide variety of faces.
5 point "spider" strap system enables mask to perfectly fit the face and comfortably spread strap tension.
Stainless steel, quick-adjust, positive-lock buckles provide safety, comfort and reliability.
Mineral anti-fogging treated lenses offer a clear field of view.
Chemically resistant silicone skirt prevents damage when diving in contaminated waters.
One-way valve provides an optional alternate air source adapter.
Direct inhalation is possible with or without internal mouthpiece.
Note: A700, G260 and R195 second stages cannot be connected to the mask due to the different size of the mouthpiece adapter.
Price: $839.00

---

Scubapro Full Face Mask Accessories
Scubapro Spider Full-Face Mask Strap - Black
# 24.058.102
Price: $70.00
---
Related Items
While these are excellent reference materials, in no way should this information be considered a replacement for proper training for the specific type of diving in which you plan to participate.